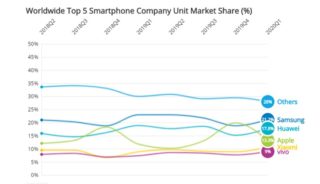 Vi giver os normalt ikke af med at kommentere på aktiekurser her på bloggen, men da Apple for to år siden som det første selskab opnåede en markedsværdi på over $1 billion, kastede vi et blik på fænomenet. Ved at se på Apples overskud og lave en serviet-sammenligning med amerikanske statsobligationer, konkluderede vi, at kursværdien ikke var helt i skoven.

Men nu er det tid til en update, for Apples markedsværdi gennembrød for nylig $2 billioner-muren ($2.000.000.000.000 – altså $2.000 milliarder). En forøgelse på 100% på kun to år? Og det i en situation med corona-pandemi og gigantiske BNP-fald? Er det så nu, at investorerne fuldkommen har tabt sutten? Tja. De seneste to regnskabsår er Apples overskud steget fra $48 mia. i 2017 til $59 mia. i 2018 og $55 mia. i 2019. Pænt, men dog meget langt fra en fordobling.

Groft beregnet er investorernes afkast på en Apple-aktie faldet fra 4,8% i 2018 til 2,7% i 2020. Apple lancerede sidste år iPhone 11, men firmaets markedsandel for mobiltelefoner ligger nogenlunde uforandret på omkring 13%. Så hvorfor er investorerne villige til at nøjes med så lavt et afkast? Måske ser de noget, vi andre ikke lige ser, det kan bestemt ikke udelukkes.

Men frem for at kaste sig ud i en dybtgående analyse af Apples markedsudsiger, behøver blot at finde servietten frem igen for at frikende investorerne for den værste boblesyge.

Det viser sig nemlig, at hvad enten Apples udsigter er blevet bedre eller ej, så er alternativet blevet værre. Den allerede lave rente på amerikanske 10-årige statsobligationer, som lå på knap 3% i 2018, er faldet yderligere og ligger nu på 0,75%. På den baggrund ser et Apple-afkast på 2,7% jo pludselig yderst attraktivt ud.
Man siger, at den første million er den sværeste at opnå. For Apple ser det unægtelig ud til, at den første billion var sværere end den anden. Og det er givetvis en stor del af historien om det samlede aktiemarked i disse år.

—
Apple-regnskabstal: https://www.nasdaq.com/market-activity/stocks/aapl/financials
Apple-markedsandel:
https://www.idc.com/promo/smartphone-market-share/vendor
Amerikanske statsobligationer: https://www.treasury.gov/resource-center/data-chart-center/interest-rates/pages/TextView.aspx?data=yieldYear&year=2018