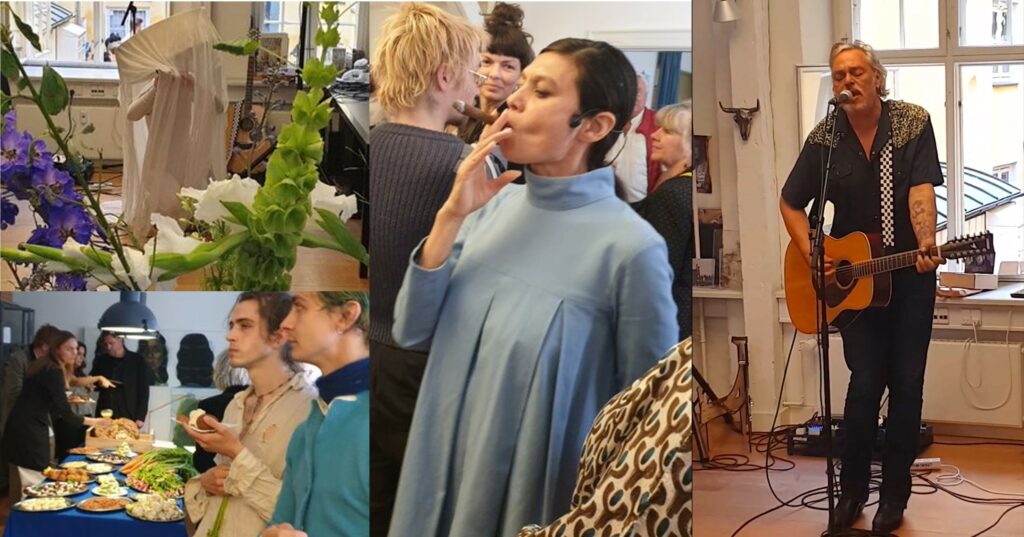 Vores gamle venner fra NXT ("media, arts, and rebellion") er kommet ud af teenageårene. NXT er ubetinget vores absolutte yndlingskommunikations- og innovationsbureau, som vi har delt kontor med, og som blandt meget andet er vores medsammensvorne medstiftere af House of Futures, og forleden fejrede de deres 20 års fødselsdag.

Det gjorde de ved at invitere til et brag af en fest i de smukke lokaler på Nybrogade. Der var eksotiske retter på buffeten, og der var performance af Lilibeth Cuenca Rasmussen, afrikansk harpe ved Dawda Jobarteh og – bestemt ikke mindst, hvis I vil høre vores mening – solokoncert med Uffe Lorenzen (kendt fra Spids Nøgenhat og Baby Woodrose).

Samtidig fungerede det hele som lancering af et eksklusivt og virkelig flot printmagasin spækket med tankevækkende essays om fænomenet "sted".

Skønt at få lov til at opleve sådant overskud af energi og social kreativitet. Det var intet mindre end et generøst Gesamtkunstwerk, og vi kan kun lette på hatten, kippe med flaget og bøje os i støvet. Stort tillykke til jer i NXT. Fortsæt endelig jeres skønne rebellion de næste 20 år, det gør verden til et bedre sted. I er i sandhed værd at fejre!