Det Joakim von And-lignende beløb en billion dollars er i overskrifterne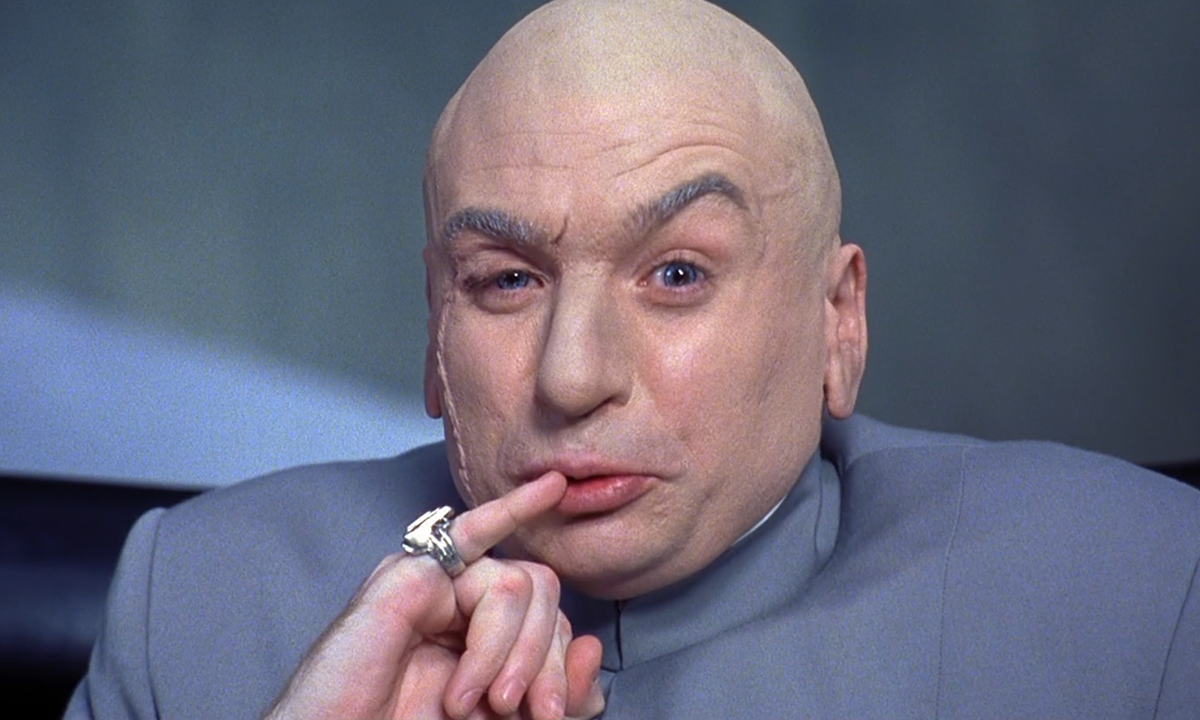 i disse dage. Det er iPhone-giganten Apple, der ifølge børsnoteringen er værdisat over den magiske grænse som det første selskab nogensinde.
Der er altid noget arbitrært over, at man er så fikseret på et nominelt beløb, blot fordi det skrives som et et-tal efterfulgt af en række nuller. Man kan tænke på den dæmoniske Dr. Evil-figur i James Bond-parodien Austin Powers, der efter at have været nedfrosset i 30 år, kræver det i hans egen opfattelse uhyrlige beløb "One million dollars! Muhahahaha" for at spare verden for nuklear ødelæggelse. Man kan også tænke på, hvor høj Apples nominelle værdisætning er, hvis man omregner til danske kroner – eller islandske kroner.
Men en billion dollars repræsenterer unægtelig en stor real værdi, hvad enten man måler det i antal Storebæltsbroer (135), eller i det danske årlige bruttonationalprodukt (ca. 3).
Et mere interessant spørgsmål er, om Apple virkelig tre gange mere værd end det danske bruttonationalprodukt – dvs. det, vi producerer i Danmark på tre år? Her må det indskydes, at det faktisk er misvisende at sammenligne kapitalværdi med BNP, for BNP svarer ikke til, hvad Danmark er værd "på børsen". I Apple-termer svarer BNP til årets overskud plus udbetalte lønninger, og målt på denne måde er Apples "BNP" ca. $90 mia., svarende til ca. en fjerdedel af det danske BNP. Og det er jo også en slags penge.
Er Apple så en billion dollars værd? Ja, i hvert fald ifølge investorerne på NASDAQ-børsen, men de kan jo tage fejl, det er set før. Disruptioner forekommer, som vi efterhånden har forstået – og på mobiltelefonmarkedet kan man eksempelvis spørge Nokia eller Ericsson.
Men hvordan kan man vurdere rimeligheden af markedets værdisættelse? En måde er at se på, hvilket krav til afkast (profit), investorernes værdisættelse sætter til Apple, og hvorvidt det er realistisk. Investorerne vil forvente et afkast af deres Apple-investering, som mindst matcher det, de kan forvente andre steder. Har man en investeringshorisont på ti år, kan man i øjeblikket sætte pengene i risikofrie amerikanske 10-årige statsobligationer til en rente på omkring 3% (hvilket historisk set stadig er en lav rente). For at være interessant for en investor, skal Apple altså mindst forrente sin billion med $30 milliarder om året. Det er minimumskravet til overskuddet efter afholdte driftsomkostninger – løn, materialer, råstoffer, transport, markedsføring, distribution m.m. samt skat. (Kravet er selvsagt reelt højere, når man medtager den højere risiko ved aktier end ved statsobligationer).
Er Apple i stand til at præstere et sådant overskud? Og vel at mærke at gøre det år efter år i den tænkte investors tiårige tidshorisont? Eller er den fantastiske kapitalværdi udtryk for en overdreven optimisme på Apples vegne?
Ser vi på de seneste fire finansår, har Apples indtjening efter driftsomkostninger og skat sagtens kunnet leve op til kravet. "Net Income Applicable to Shareholders" – den profit, som aktionærerne har rådighed over – har ligget på hhv. $39,5 mia, $53,4 mia., $45,7 mia. og $48,4 mia. i 2014, 2015, 2016 og 2017.
Det viser et billede af, at en prissætning på en billion dollars for Apple isoleret set absolut er inden for skiven. Set i forhold til en 2017-omsætning på $229 mia. viser det også et billede af Apple som en formidabel indtjeningsmaskine: 20-25% af salgsindtægterne er ren profit.
Apples vigtigste marked og indtjeningsområde er mobiltelefoner. Med 14% af det globale marked for smartphones er Apple stor, men dog kun næststørst – og er langt fra markedslederens Samsungs 20%, når man ser på antallet af solgte telefoner.
Nøglen til Apples langt større markedsværdi er, at Apple er i stand til at sælge sine produkter med en markant større avance. Forbrugeren er villig til at betale en høj ekstrapris for en Apple-telefon frem for eksempelvis en Samsung eller en Huawei (som har 10% af markedet).
Kan man blive ved med at fastholde både markedsandelen og den høje avance i de kommende år? Det er det, investorerne sætter deres penge på. De sætter dem ikke på disruption.
Kilder:
Apple-regnskab her, fra NASDAQ: Annual income statement.  https://www.nasdaq.com/symbol/aapl/financials?query=income-statement
Markedsandele på det globale marked for mobiltelefoner her, fra Gartner: https://www.gartner.com/newsroom/id/3876865