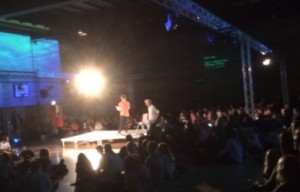 Den 2. oktober stod House of Futures for en rekordstor(*) visionsdag på Slagelse Gymnasium.
En hel forrygende dag med fremtiden i fokus, der blev iscenesat med lyd, film, visuals, musik og inspirerende indlæg, og som ikke mindst fik sat gang i elever og lærere med at arbejde med fremtid og formulere visioner.
Slagelse, der er et af landets største gymnasier, har valgt at involvere samtlige 1300 elever, 130 lærere samt teknisk personale, ledelse og bestyrelse. Til sammen deltog op mod 1500 mennesker i dagen. Og det var dem, der gjorde den til så stor en succes, som den blev! Det føg med ideer, dialog, diskussioner og fantasifulde formuleringer i de 56 visions-workshops. Ud af det hele blev der formuleret  56 visioner fulde af poesi, overraskelser, alvor, humor, ambition, fremtid og Slagelse-ånd.
Mere end 100 frivillige visionsagenter ledede arbejdet rundt om i de mange klasser og lærergrupper. Og vores enestående House of Futures-partner, Madeleine Kate McGowan, styrede suverænt lys og lyd samt leverede kreative visuals og film. Det understøttede bl.a et indslag fra skolens dramalærer i rollen som H. C. Andersen, en af Slagelse Gymnasiums tidligere elever.
Nu kommer arbejdet med at bruge al inputtet til at formulere en samlet endelig vision for skolen – og derefter at få den implementeret i strategi, værdier og studieretninger. Denne del af processen er vi også med i, sammen med skolens ledelse.
En vision kan være nok så flot, men det er i hverdagen, den skal mærkes.
Se omtale på skolens hjemmeside her – inklusiv Kates lille intro-film til dagen.
–
(*) Det var ihvertfald den største, vi har været med til, og det er efterhånden blevet til nogle stykker!