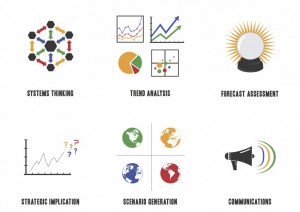 Eric Garland, professionel fremtidsforsker, eller futurist, som det hedder i USA, er træt af at skulle finde på andre betegnelser for det han laver, fordi ordet fremtidsforsker alt for længe er blevet misbrugt af overfladiske sælgertyper. Her har han skrevet et mindre manifest, hvor han tager ordet tilbage: Why I'm proud to be a futurist. Fremtidsforskning er en seriøs disciplin med en lang og stolt tradition – og som elev af en af de virkelig store "grand old men" på området, den nyligt afdøde Joseph Coates, er Garland mere bevidst om dette end de fleste.
Fremtidsforskningen har været i modvind siden 11. september 2001, og især siden Lehman-krakket i september 2008. Folk er ifølge Garland gået i panik og har nærmest nægtet at se længere frem end den helt korte tidshorisont.
Nu er det intellektuelle klima ved at rette sig op (måske i takt med økonomien – vi taler om USA her), og Garland peger på fire grunde til at insistere på fremtidsforskningen – fire kendetegn på en fremtidsforsker, der aldrig går af mode:
1. Systemtænkning (helhedstænkning)
2. Tabunedbrydning
3. Innovation
4. Lederskab
Men læs selv, det er skarpt og tankevækkende.