Sundhedsmediet The Medical Futurist foreslår en opdatering af lægeløftet.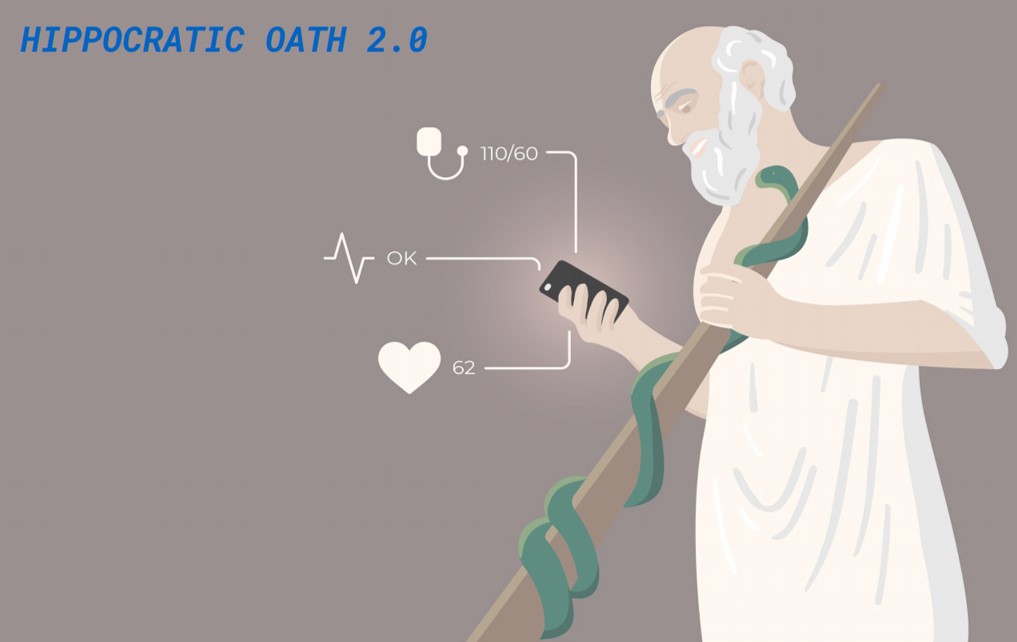 Den græske læge Hippokrates, der har lagt navn til den såkaldte hippokratiske ed, forbilledet for det moderne lægeløfte, levede fra ca. 460-ca. 370 f. Kr., så i det lys  kunne en opdatering vel nok være på tide.
Retfærdigvis er det moderne lægeløfte mere inspireret af selve eksemplet – at lægen sværger at ville overholde professionens etik – end af den nøjagtige ordlyd, og der er faktisk foretaget adskillige opdateringer.
Men derfor kan det alligevel være en meningsfuld øvelse at revidere et sådant manifest i lyset af den rivende udvikling på området, i teknologien, i lægens forhold til patienten osv.
The Medical Futurist peger på seks områder, der bør tilføjes et sådant opdateret lægeløfte:
1) Patientinklusion
2) Skift fra behandling til forebyggelse
3) Anerkendelse af teknologiens betydning
4) Erkendelse af nødvendigheden af livslang læring
5) Inklusion af ligeværdige partnerskaber (med patienter og med andre faggrupper), og
6) Beskyttelse af personfølsomme data.
Det er gode og relevante punkter. Det er også interessant, at kun to direkte handler om teknologien, nemlig anerkendelsen af dens betydning og databeskyttelsen. Den sidste ligger endda i umiddelbar og naturlig forlængelse af tavshedsløftet. To handler om at omskabe de traditionelle hierarkiske forhold mellem lægen, patienten og andre sundhedsfaglige grupper. Et understreger pligten til løbende opkvalificering (som vel ikke egentlig er noget nyt). Og endelig er der punkt 2), der berører et  grundlæggende paradigmeskift i forståelsen af lægegerningen: Skiftet fra behandling til forebyggelse. Heri ligger et potentielt opgør med professionens traditionelt dominerende fokus på sygdom, medicin og behandling, et fokus på den syge krop. Det åbner for en mere helhedsorienteret forståelse, der handler om sundhed, forebyggelse og livsvilkår – et fokus på livet.
De foreslåede tilpasninger er absolut fornuftige, men egentlig kunne det være interessant at starte forfra med et helt blankt stykke papir og det enkle spørgsmål: Hvad skal der stå i fremtidens lægeløfte?
Link: Why An Upgraded Hippocratic Oath Is Needed In The Digital Era. (The Medical Futurist)